Description
[Rapid Pet Hair Removal Tool] Get rid of animal hair in a second. This pet cleaner roller can easily clean cat/dog hair from your bed, furnishings, couch, sofa, chair, cars and truck, rug, and so forth. Note: Not suitable for smooth, hard surface areas like timber, Formica, tile, and concrete; damp surface areas; clothing and thin carpeting.
[Catch Each Solitary Animal Hair] Remove each animal's hair with this pet dog hair cleaner from furnishings. No fret about getting a single hair on yourself. Clean your bed, furnishings, sofa, couch, chair, car, rug, and so on
[Reusable, Long Lasting & Self Cleaning] You don't need to keep purchasing sticky tape or adhesive tape. You do not need to keep peeling off or filling up. Our reusable family pet fur roller is very easy to clean. Just empty the waste compartment, and the item is ready for use again!
[No Needs for Batteries or Power Source] Merely roll this pet hair cleaner backward and forward on the desired surface to catch all animal hair and lint into the dust receptacle.
[Necessary for Animal Lover] An ideal present option for the pet fan, especially with pets or any other long-haired animal. Purchase this pet hair cleaner and provide you a fur-free house.
How This Animal Hair Cleaner Works?
Get rid of pet hair from your sofa, bed, rug, and so on. Specially electrostatic adsorption design, catch the pet hair in a second!
Note: Not suitable for smooth, hard surface areas like wood, tile, Formica and concrete.
Super Easy to Use & Clean.
Roll it backward and forward in short strokes to trap the pet hair into the chamber.
Press the handle catch to open the chamber.
Remove all animal hair from the catchment chamber.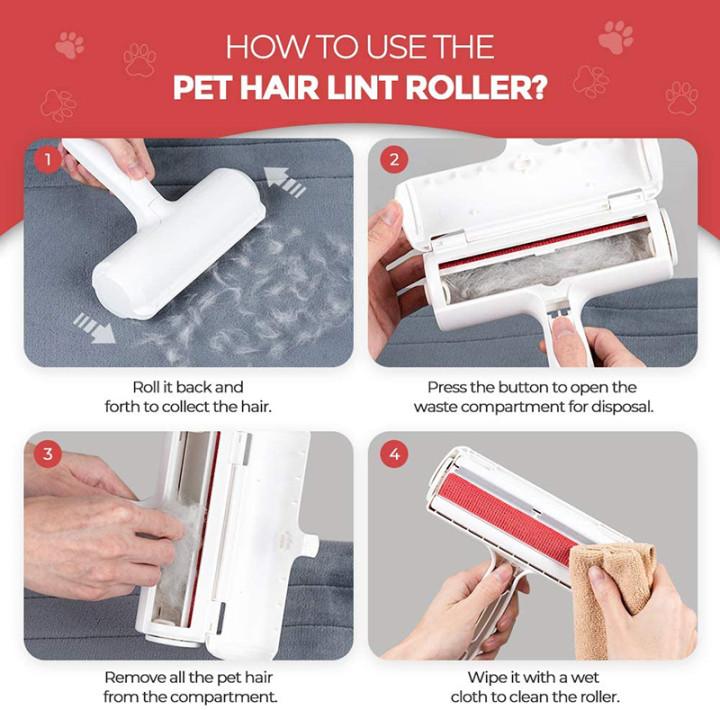 More Detail:
Color: Red, Blue
Item Weight: 150 g / 0.3 lbs / 5.3 oz
Item Dimension(LxW): 20*19 cm / 7.9*7.5 in